From Left to Right: Managing Director of SMDF, Makhicia Brooks; Minister of Finance, Ardwell Irion; Coursera's Head of Public Sector Relations, Mateo Samper; and Program Associate, Breanna Barrie
PHILIPSBURG – Having recently launched its digital learning program, the St. Maarten Development Fund (SMDF) took the opportunity to update the Minister of Finance, Ardwell Irion, along with the ministry's Senior Policy Advisor, Christian Grannum, on the program's overall success. SMDF was represented by Managing Director Makhicia Brooks and Program Associate Breanna Barrie. They were joined by Coursera's Head of Public Sector Relations, Mateo Samper. This fruitful meeting served to not only highlight the program's success, which currently boasts over 400 learners currently enrolled in over 1200 courses, but to also discuss new ways to encourage further participation amongst Sint Maarten residents.
The Learn SMART program, which is supported by the Ministry of Finance, presents Sint Maarten residents with new educational opportunities using the online learning platform Coursera. With only three months since its official launch, Learn SMART – an acronym for St. Maarten Active Recovery & Training Program, has seen over 400 successful applicants who have dedicated more than 3500 hours to completing the over 1200 courses that they have enrolled in. From Bookkeeping Basics to Foundations of Project Management, the learners have access to courses from leading universities and industry educators around the world including Yale University, the University of Michigan, IBM, and Microsoft. Many learners, ranging from civil servants to seniors, have commended the program including Precelda St. Ange who recently expressed, "It was a great experience getting a lot more information on sales. Great program and the information is well-presented. The information on the site is endless with lots of opportunities to learn. I'm loving it. Thanks for choosing me." Ms. St. Ange is one of the many participants who have been highlighted via the program's #EarnItShareIt campaign which allows learners to share written and video testimonials of their experiences, inspiring others to join.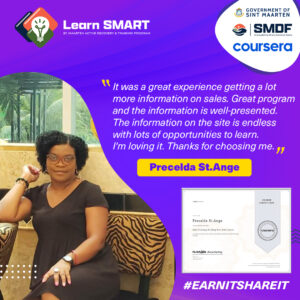 Propelled by the program's success to date, the group discussed ways to encourage further enrollment, particularly in Learn SMART's Digital Transformation Program. With the clear global shift towards digitization, which has noticeably been expedited by the COVID-19 pandemic, it was collectively determined that in order to keep St. Maarten's labour market competitive, greater focus needed to be placed on digital transformation. Thus, going forward, SMDF will be working closely with the Ministry of Finance to expand ICT education using Learn SMART's Digital Transformation Program. This program, which offers free scholarships to Google entry-level Professional Certificates on Coursera in the fields of Project Management, Data Analytics, IT Support, and UX Design, will greatly increase the capacity and confidence of ICT professionals at various levels. Starting with government and government-owned companies, this initiative will better equip the personnel of these entities whilst creating pathways for residents to work in wider technology areas.
At the close of the meeting, Minister Irion reaffirmed his commitment to the Learn SMART Program and thanked SMDF and Coursera for bringing this opportunity to St. Maarten. The group will continue to share updates as the program progresses.